Uncategorized
Cool Cat Cruisin' License Plate ??
On February 21, 2020 by admin
Assignment: Design A License Plate
Design your own license plate! You can use an online site, alter a preexisting photo, or make your own from scratch. Make the license plate describe either your or a character. Your license plate design should have two part to it: designing the background for the plate and designing the font. Be creative with it.
This assignment wasn't that time consuming mostly because I already made this background for my website, which I took off and now it's my icon. But, I really didn't want to waste this 'art'. Making it was fun and enjoyable but the most difficult part was finding the pictures that would go well with everything. I do have some criticisms of my own like it being too colorful and the cat not sitting correctly on the car but oh well I think it's cute overall. I also wanted to keep the license plate minimalistic by adding the font simple, bold and on top, this is because I want the cat and car to stay as the focal point.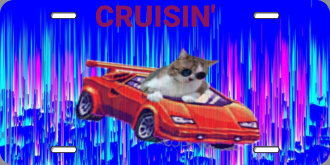 HOW IT WORKS:
1.) Use Gimp to merge all three images together
a.) Background
b.) Car
c.) Cat
2.) All images had their own layer to prevent any mistakes!
3.) I put the Cat Layer on top, over the car layer and the background was below everything.
4.) I then made the car more transparent, slightly less to the cat as well.
5.) I then went to buildasign.com and copied/pasted it to this blog post!

1 comment
MEEEEE!
My Name is Carmen and the owner of this little website!
Nice to meet you and have a good time stalking
browsing around!